The mail lady brought my soup for the 7th Bead Soup Blog Hop!! Look how cute this box is!! I just couldn't wait to open it! But first let me start at the beginning. My partner is Susan of
Libellula Jewelry
and
Cicada Silver
. She makes beautiful jewelry pieces like this.....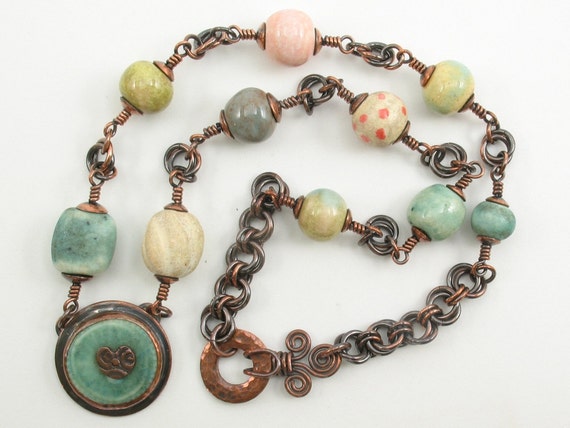 I love the colors and the look of this piece. But look at the copper components she has made aren't they wonderful? Look at this bezel and the clasp! Aren't they wonderful? She also does etching, colors metal, makes bead caps, headpins and I am sure so much more. She is very talented. I am so happy to have her as a partner.
So lets get back to the Bead Soup Blog Hop and the wonderful box,(which she also made!!) Susan sent me. She sent me so many wonderful things. There is no way I could ever say how happy I am with everything that was inside that box. It was filled to the rim, and everything was wrapped in turquoise tissue paper.(I should have taken a picture but....well.... I forgot. You would have too.) I took my time unwrapping every piece. It was like Christmas or my birthday or something. So much fun. I love the way she labeled every item. Makes it very easy to remember what it all is.
First of all the beads...
Cherry Quartz, Pink Opal, Aventurine, Turquoise, Freshwater pearls! They are all beautiful. The ceramic beads on the left which are from
Gaea
are really pretty spring colors. And I love the recycled coke bottle glass beads. They are such a pretty color.
And now the metal stuff. Honestly it is all just way too cool!!
This is all stuff she made! Headpins, links, a hammered clasp, jump rings that have been oxidized, the copper beads that she has liver of sulfured and verdigrised, the ear wires, the bead caps. (The only thing she didn't make were the enameled headpins on the left from
SueBeads
) The PENDANT and The BUTTON CLASP....WOW!!! I know I keep saying it, but I LOVE these!!!
So, that is everything. I have a bunch of ideas running around in my head. We are in the second reveal, which is April 6th. I will post a picture of what I sent her tomorrow.